"There must be a heaven for animals we love. They are not human, yet they bring out our humanity. Each day they teach us little lessons in trust and steadfast affection. Whatever heaven may be, there is surely a place in it for friends as good as these." Anon.


Niman's Way --Naturally: For each order of $100.00, Niman's Way -- Naturally will donate $5.00 to the legal charity of your choice in your name. For orders of $500. we will donate $50.00 in your name (group orders permitted) and will offer FREE SHIPPING on orders over $250.00.

Rescues: Feline, Canine, Equine: notify your members and we will group their orders to increase the donation to your legal organization.

ONLY PRODUCTS ON THIS PAGE INCLUDED IN THIS OFFER. ORDER MUST REFER TO NIMAN'S WAY -- NATURALLY TO BE INCLUDED IN THIS PROGRAM.

To order
: Email us at
bldhd@cbpu.com
with your name and a phone number. We will call you and place your order.

.
I


Veterinarian's Best® Natural Care Ear Wash Relief™ and Ear Wash Relief™ are for those cat and dog owners who want a natural ear cleaning system that stays away from alcohol, steroids and harsh ingredients. Ear Wash Relief and Ear Wash Dry can be used on both dogs and cats. Buy the 4 oz bottles and use the 16 oz bottles for refills. These products are used 4:1. You will use the Ear Wash Relief four times more than the Ear Wash Dry. Ear Wash Dry will dry to a fine powder. Both products are safe enough to use everyday in dogs, cats, puppies and kittens.
Ear Relief Wash™ and Ear Relief Dry™ 1 four ounce bottle of each $ 13.88
Ear Relief Wash™ 16 oz bottle $ 17.95
Ear Relief Dry™ 16 oz bottle $ 17.95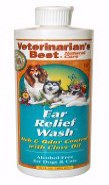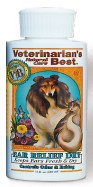 "Ear Relief Wash and Ear Relief Dry are used frequently in the kennel. Some puppies will have ear issues and some don't. These products are so gentle they can be used daily. Veterinarian's Best Ear Relief makes the dog smell like cloves. Even the puppies don't mind getting their ears cleaned." Niman's Way Kennel

What about a natural dental care product?

Veterinarian's Best® also makes Dental Care Gel.
This all natural product combines the benefit of baking soda, peroxide, Neem Oil and enzymes for healthy teeth and gums. DentalCare Gel helps prevent tooth decay by removing plaque and reducing harmful bacteria which cause gingivitis and gum disease.
DentalCare™ gel in 1.5 oz (42 gram tube). Apply 2-3 times a week. $5.08
Bitter Cherry Spray for Dogs and Cats. Bitter Cherry™ is a safe, alcohol free taste deterrent formula developed by a veterinarian to discourage chewing and licking at skin, hot spots, bandages or stitches. Also excellent for new puppy training and to discourage licking, chewing and biting of furniture, shoes, drapes, rugs and wood. Will not sting or stain. 7.5 oz size
$ 6.45 each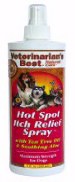 Veterinarian's Best® Hot Spot Itch Relief Spray
with Tea Tree Oil, Flea Allergy Relief and No Alcohol or Steroids. Hot Spot Itch Relief Spray™ provides immediate relief from itching and scratching caused by flea allergy dermatitis, pollen allergies and other skin problems. Hot Spot Spray soothes and heals raw, sore, inflamed "hot spots" fast. Contains Tea Tree Oil with Chamomile and Aloe Vera. Can be used on groomed dogs who have "clipper burn". 8 oz spray $9.29
PETZLIFE® Oral Gel and Spray -- Original flavor and Wild Salmon:

Original Oral Gel $24.95 Rub or brush on teeth daily. Contains all natural products to reduce smelly breathe, kill bacteria and germs and reduce tartar build up. Maintenance is three times weekly. Also in Wild Salmon flavor!!

PETZLIFE Oral Spray contains 450 applications in this 4 oz bottle. It can be applied either morning or evening and can be used opposite Oral Gel or Wild Salmon Gel. $21.95
All natural rub on or brush on gel. No food or water 30 minutes before or after application. Use 1/3 teaspoon to 1 teaspoon depending upon the size of the dog.
Before (left) After(right)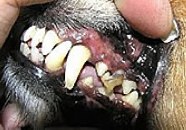 "We started using PETZLIFE Oral Gel on a 12 year old beagle mix with congestive heart failure. We were afraid to put Lily under drugs for a standard teeth cleaning. Lily's breath improved in three days and we were able to chip off the tartar on her teeth with a fingernail. We have also used this on a 12 year old Akita who has serious health issues. Nothing precludes a visit to the vet for proper oral hygiene for a pet, however, PETZLIFE Oral Gel has just been remarkable in cleaning up the mouths of our old pets. We are using it on the puppies to keep their teeth clean. And they love the flavor!! Niman's Way Kennel
These products are very economical to use and come in larger sizes for kennels and multidog homes. Contact us for sizes and pricing.
Fastrack® 5 lb Kennel Buckets $135.60

Save over $49. compared to buying the 300 gram jars (2 cases of CMS $94.00 per case for 2.64 pounds). Same great product but now in the larger size for multidog homes, kennels, breeders, veterinarian clinics, multi large dog homes.
"Niman's Way Kennels has used this product since 1999. It is consistent in manufacture and always fresh upon delivery. We wouldn't be without it for studs, pregnant bitches and weaning puppies. We recommend all puppy buyers take home a jar of CMS and a tube of get to get that puppy off to the best start always."
Fastrack
is for the life of your dog!
(300 gram jar) $26.26 each or ($94.00 per case of 4 jars).
Fastrack Canine Gel 20cc tubes, six tubes to a case $67.50 per case.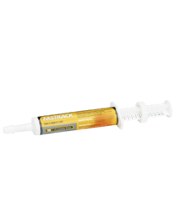 Fastrack Canine Gel can be given to day old puppies and is recommended for the first five days of life. Give also to the bitch the day of whelp.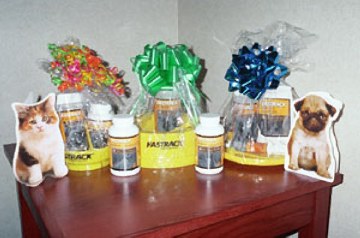 Fastrack Feline Microbial Supplement, Fastrack Adult Cat and Senior Cat vitamins, Fastrack Canine Treats, Canine Microbial Supplement, Canine Gel, Adult Dog and Senior Dog Supplements can be tastefully packaged for silent auctions or fund raisers. Offer your bidders a bundle of healthy products and health giving products that will benefit dogs and cats and rise money for your special organization.
Do you have a favorite product that you would like to see us carry for breed rescue fund raising? Please feel free to contact us with your suggestions.
Call us or email us for help: 1-888-266-0014 Ext 8430 or
bldhd@cbpu.com