Fastrack® on the Farm- Dogs, Cats, Llamas, Alpacas, Horses (at bottom of page)

We have special offers for large orders. Please contact us for pricing: Farm dealerships available for lower costs.


Scroll down to read about Fastrack® products for dairy, cattle, horses, poultry, hogs,sheep and exotics. See FAQ's for more details about each product.
Seen at left is Conklin's FASTRACK® Microbial Pack in the 5 lb bag and 50 lb bale (10 five pound bags).
Fastrack® Microbial Pack was designed for use in the dairy, cattle, horse, alpaca, llama and other exotic species whose diet is grain based or largely roughage. This feed supplement, given at the rate of 5 pounds per ton of dry feed, has proven itself over and over again in higher rate of gain, condition, milk production, energy levels and resistance to disease due to better over all health of livestock. Fastrack® Microbial Pack can be used to top dress individual feeds.
Fastrack® Microbial Pack (for ruminant animals: cattle, dairy, goats, alpacas)
1.5 pound bags (4 bag minimum) $ 9.65 each
5 pound bags (2 bag minimum) $ 24.85 each
50 lb bale ( 10 five lb bags) $197.20 each (scoops- ten in a case $3.85)
Fastrack® Microbial Pack is NOT for dogs.
Camels, Alpacas and Llamas benefit from Fastrack® Jump Start™ Gel. This product is formulated for ruminants under 500 lbs. Give to crias for the first five days of life to help the rumen develop as soon as possible and increase survivability. Fastrack® Jump Start™ Gel contains specialized proteins that assist the immune system in restricting the growth of harmful microorganisms. The specialized proteins in Fastrack® Jump Start™ Gel have demonstrated activity against E. Coli 88, E. Coli 99, Salmonella typhimirium, Salmonella dublin, Salmonella enteritis, clostridium perfringens C & D, and the Rota and Corona viruses. Fastrack® Jump Start™ Gel is recommended for the first five days of life and during any periods of decreased nutritional up take. And, please, don't forget to give Fastrack® Jump Start™ Gel to the dam on her day of delivery and until she is on a regular feeding schedule postpartum.
Fastrack® Jump Start™ Gel 60 cc tubes each $17.80 Case of six tubes: $92.35
Contact us at
bldhd@cbpu.com
for farm dealerships and breeder discounts.
Want to start those calves off right?
Michigan Microfeeds, LLC introduces
FASTRACK® KICK OFF
1 pound container $202.05 Case of 4 cans $702.65 (free shipping)
Use Fastrack® Kick Off to ensure your calves get the best start possible. Mix in calf formula for ease of administration. Use Fastrack's® specialized proteins and vitamins to fight against:
E. coli K88
E. coli K99
Salmonella Typhimurium
Salmonella dublin
Rota virus
Corona virus Let Fastrack® help keep the calves you have healthy!!
CATTLE OPERATIONS AND FEED LOT MANAGERS report faster rate of gain, healthier livestock, reduction in the use of antibiotics, better hair coat, less digestive upsets to name a few of the benefits of adding FASTRACK® Microbial Pack to their feed program.
The stress of transportation necessitates a dose of
Fastrack®
DAIRY PRODUCERS report higher protein, butterfat and overall production in milking herds where FASTRACK® Microbial Pack has been used in the herd health nutrition program.
Fastrack® Gel - Ruminant
Single tube 80 cc $15.50 Case of six tubes $80.50
Single tube 300 cc $44.75 Case of six tubes $233.35 (free shipping)
36 tubes 300 cc $1347.50 (free shipping)
Applicator gun (300 cc) $23.30 Application Hook $13.80
Fastrack® Ruminant Bolus
Single Can 25 bolus $55.85 Case of 4 cans (25 bolus) $194.10

Fastrack® Calf Bolus
Single can of 50 bolus $91.25 Case of 4 cans $317.05
Fastrack®
Gel Non Ruminant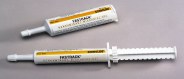 Single tube 32 cc $ 9.20 12 tubes per case (32 cc) $ 95.30
Single tube 60 cc $15.10
6 tubes per case (60 cc) $78.75
Fastrack® Automatic Syringe $70.25
Farm dealerships are available.
Call 1-888-266-0014 ext 8430
Write to Michigan Microfeeds, LLC 541 N. Michigan Road, Coldwater, MI 49036 for more information.

This must be a
FASTRACK®
cow!!
Fastrack® for Horses of all ages, levels and breeds

HORSES fed Fastrack® Equine Microbial Pack benefit in similar ways: Sleek hair coats, less digestive upsets, definition of muscle and higher energy levels. There is a Fastrack® Equine Gel for the horse in distress or the newborn foal. Give Equine Gel for horses recovering from illness, injury or the stress of travel, showing and foaling. Feel free to call us for advice and information: 517-279-1319.
Fastrack® Equine Gel
20 cc tube $25.85 Case of six tubes $131.35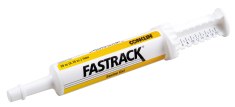 Dose 1 cc daily for foals Up to 4 cc daily for adults

Fastrack Microbial Pack for Horses just got better with the addition of 4 new digestive enzymes!! Now included for better digestion and absorption of nutrients by all ages and work levels of horses.
Fastrack® 8 lb Horseman's Pail Suggested Retail Price: $51.85
By the case (4 buckets) Suggested Retail Price: $198.05
Cost per single day is .41 cents.

Fastrack®
for the life of your horse
.

FASTRACK® Liquid Disbursable and, for especially for poultry, FASTRACK® Liquid Disbursable - P
This fine powder in FASTRACK® LD or LD-P can be added to an automatic watering system or cool (body temperature or lower) milk replacers or liquid feeds. Mixing FASTRACK® by this method permits administration of beneficial bacteria to a large number of hogs, cattle, poultry in a production setting.
Poultry: 1/4 to 1/2 pound (in watering system) per ton of dry feed consumed
Calves: Mix with whole milk or milk replacer at the rate of 1/4 teaspoon (1 gram) per calf per day
Lactating Dairy and Beef cattle: 1 oz per 10 head daily
Swine: In liquid feeds (per 10 head per day)
Birth to 40 lb. 1 gram (1/4 teaspoon)
40 to 130 lb. 2 gram (1/2 teaspoon)
130 + lb. 4 gram (1 teaspoon)
FASTRACK® Liquid Disbursable - P
Greater survivability, increased production, reduced health problems and use of antibiotics. Sounds great, doesn't it? You can see the same benefits in your flock and egg production operation:
Fastrack® Liquid Disbursable-P
Use Fastrack® LD-P for the first 5 days of life with broilers, pullets, ducks, geese, turkeys and layers, water fowl, game birds and exotics. You will be amazed at the difference Fastrack® can make.
1 lb jar $165.50 Case of 4 jars $577.85
Dealer inquiries welcome. Reduce costs by letting Michigan Microfeeds, LLC sponsor your farm or agricultural operation. Contact us for further information. Prices Subject to change without notice.
Fax: 517-278-4669 Call: 1-888-266-0014 Ext 8430
or call 1-888-266-0014 Ext 8430 TOLL FREE !!