We have a new name:
Niman's Way™ Distribution, LLC is
Proud to announce our sister companies:
Michigan Microbials &
Canadian Microbials
Your Fastrack® Connection in the USA and Canada
Preferred Customer Discount, Wholesale & IBO - new annoucements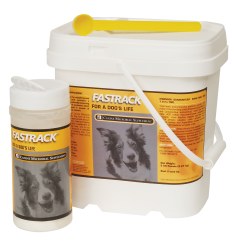 Fastrack® Canine Microbial Supplement in 5 lb pails!! Now you can keep the whole kennel on Fastrack® for a fraction of the cost of jars!! Suggested retail price is $135.60. This is a $40.00 savings over two cases of jars!! IBO's pay even less!!
Fastrack is the number one probiotic available only through approved distributors. Isn't it time you put Fastrack in your breeding program? Isn't it time you used Fastrack for the life of your dog? Please contact us for further information.
Become a Michigan Microbials IBO and pay even less. Get dealer cost. No required selling, no required volumes: get the best products for home, family and farm at dealer pricing. Animal Products, AgAdvantage, Lubes and Oils, Family Care, Consumer Care, Conklin Roofing Systems, we can help you start a business or enhance the one you have. Contact us for more information. 1-888-266-0014 ext 8430 or email us at
bldhd@cbpu.com
Right from the start and for the rest of their lives: Fastrack® Canine Gel and Fastrack® Canine Microbial Supplement. Don't they deserve the very best?
Niman's Way Ared Ribbon Dancer (Spanky)
Niman's Way Ared Small Package (Otis)
Niman's Way Ared Ms L Toe Kiss (T-Lo)
These puppies received Fastrack® Canine Gel everyday for the first weeks of life to ensure that they reached their genetic potential. Looks like they did!!!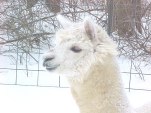 Fastrack® Microbial Pack and Fastrack® Jump Start™ Gel. There is a Fastrack® product that will benefit your pets or livestock. (Pictured at right is Blanco, Reg. ARI alpaca seen in winter coat.)
GREAT DEALERSHIP PLANS ALLOW YOU TO PURCHASE GREAT PRODUCTS AT LOWEST POSSIBLE PRICING. CONTACT US FOR INFORMATION!!!

We accept the above credit cards for your convenience.
Michigan Microbials and Canadian Microbials want to be your Fastrack® connection in the USA and Canada. We promise you the correct product for your animal, provide individual customer education/support and all at the fairest prices possible.
Michigan Microbials and its Canada counterpart, Canadian Microbials (MiCaM) are companies that teach our customers about probiotics and The Conklin Company's Fastrack® products.
We want to give you the information you need to maintain the digestive health of the animals you depend on.
Please take a few moments to look over the information on the products presented. We want to hear from you with your questions or suggestions.
Call our toll free number 1-888-266-0014 ext. 8430 and leave a message. We will return your call as soon as possible.
Rescue and Rehab groups, please contact use directly at
bldhd@cbpu.com
When you order Fastrack® from Michigan Microbials for farm, home or commercial, you become a partner. Together we work to insure you get the best products at the right price and on time. That's how partners work and that is what partner's are for.
Fastrack®
is the number one direct fed microbial supplement. In case you are not familiar with the benefits probiotics can offer your pets and livestock, we would like to give you some history behind this "back to basics" approach to nutrition.
The concept of direct fed microbial supplements is not new. This method of preventing disease in humans and animals was published in 1908 by the Russian scientist Metchnikoff. He attributed the exceptionally long lives of a population of people living in Bulgaria to their diet. Metchnikoff believed that the large amounts of fermented milk products in the diet of this tribe, and subsequently large amounts of the bacteria Bacillus bulgaricus, kept these people healthy long after other populations had succumbed to age and disease.
Richard Parker, a microbiology professor, Oregon Medical School, in the early 1960's first used the term "probiotic", meaning 'for life'.
The use of antibiotics, 'killing life', depletes populations of bacteria that is causing illness. Unfortunately, antibiotics also kill beneficial bacteria. Beneficial bacteria need to be replenished after doses of medications, stress, illness, injury and environmental upsets.
And that is what FASTRACK® is all about: Replenishing beneficial bacteria. Probiotics FOR LIFE.
The digestive system is an open door way for the rest of the body to be nourished. Beneficial bacteria coat the digestive tract, breaking down food and nutrients into the building blocks that can be absorbed by the body. When these colonies of beneficial bacteria are in the proper numbers, the balance of microbials permits maximum absorption of nutrients, helps with efficient digestion and increases the body's ability to ward off pathogenic bacteria. Another added benefit seems to be a boost to the immune system and the ability to ward off diseases.
What happens if there are more pathogenic, or bad bacteria, than good? This unequal balance can lead to observable problems such as diarrhea in dogs and scours in pigs and calves. Young and old horses can be affected, also. Animals who are not absorbing the proper nutrients can look unhealthy, have under developed muscles and skeletal systems, lack drive and energy and have the appearance of being "just not with it".
Although the animal may not be noticeably ill, not having enough beneficial bacteria can lead to lower milk production in cows, lower rate of gains in hogs and cattle, a decrease in egg production in poultry and increased intestinal problems in horses.
Dogs benefit from additional servings of direct fed microbials. Better absorption of nutrients leads to less gas and bloat, higher puppy weights, better work performance. Also consistent growth, better hair coats, resistance to disease and over all better health are reported as a result of direct fed microbial supplementation.
Puppies, pigs, calves, horses, poultry, dairy cows all have beneficial bacteria and pathogenic bacteria living in their intestinal tracts. However, when under stress of transportation, performance events, shows, changes in diet/environment, illness or injury there can be a depletion of the beneficial bacteria colonies.
WHEN THE DELICATE BALANCE OF BENEFICIAL BACTERIA IS ALTERED, THE DOOR IS OPEN FOR PATHOGENIC BACTERIA TO OVER POPULATE, CREATING DISEASE AND ILLNESS.
Supplementation with direct fed microbials stabilizes the pH of the intestinal tract, restores beneficial bacteria to the lining of the intestines and increases absorption of nutrients.
FASTRACK® by the Conklin Company, is the number one probiotic formulated to produce the optimum cultures of beneficial bacteria: Lactobacillus acidophilus and Enterococcus Faecium.
FASTRACK® is not a drug and there are no withdrawal times for horses, dairy or cattle.
Please look through the following pages and read about this remarkable product for your pets, 4-H projects or production animals. There is a specific formula to meet your needs.
MICHIGAN MICROB IALS & CANADIAN MICROBIALS ARE AN INDEPENDENT BUSINESS OWNERS (IBO) OF THE CONKLIN COMPANY AND ADHERES TO THE ETHICAL BUSINESS POLICIES THEREOF.
Farm, Kennel, Commercial or Personal Use dealerships available. Please feel free to E-mail us.
Prices are subject to change without notice. No part of this site or the information therein is to be duplicated in any manner without the express permission of Michigan Microbials or Canadian Microbials.