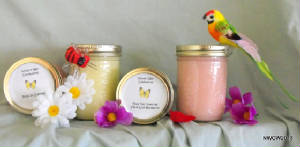 Neighbor's Fruity Dog: Such a delightful combination of citrus and sugar crystals, with strawberries, plum, apple, berries and so much more. Base tones of raspberry, vanilla and sandalwood. As much fun as watching the neighbor's do chase its tail!
Oh! Chihuahua!: With top notes of orange, cinnamon and clove, this scent is spicy like the little dogs of Mexico! Mid tones are balanced with chamomile, sage and jasmine to enhance the base fragrances of vanilla, caramel and milk. Take the lid off this candle and you, too, will say, "Oh! Chihuahua!"
Pink Poodle: A tart apple flavor covered in caramel, this candle is deliciously pink, perky and sweet.
PekeCan Pie: Who can go into a house and resist the fragrance of pecan pie baking in the oven? This decadent southern favorite of sugar, buttery crust and baked pecans will make your mouth water!
Peppermint Patti: Named after a Niman's Way bloodhound, Nimansway Playin' R Song, tis is the best wintermint, spearmint blend we have found. Just like the dog, laid back, relaxing and comfortable.
Purple Papillion: The delicate floral of violet blossom is sweet in this candle, just like the 'butterfly dog' that wears its name. Where do you find violet blossoms? Here, in this blend of leafy greens and a base of melons, floating up to violet, iris, jasmine and rose, layered with a hint of musk.
Puppy Breath: What breeder can resist the fragrance of puppy breath? And you won't be able to resist the fragrance of soothing spices and a hint of floral.
Puppy Love: Citrus, grape, and orange, swirled with floral mid tones of rose, violet and jasmine, all supported by a base of musk, amber and vanilla. What puppy doesn't out a love spell on the human heart?
Pumpkin Pupper Nickel: The very versatile fragrance, also found on our Aromatherapy page, is a holiday favorite of pumpkin custard, nutmeg, cinnamon, clove and ginger. Don't save it just for the fall and holidays. Light this one when you want some needed relaxation.
Red Rover: Those special days of summer, highlighted with blueberry, raspberry and an absolute blast of cherry!
This Dog is Bananas!: Blending tangerine, juices of grapefruit, raspberry, green apple, plum, banana and, yes, yummy bubblegum, this fragrance is fun, fruity and a delight to almost everyone.
WinerRhymer: A rich pomegranate and juice pear combination, touched with tones of white rose and mango. Its base tones of raspberry bark, musk and white woods, make it the perfect scent for an evening around the fire, with the sliver ghost dogs sleeping at your feet.
Yellow Lab: bursting with FUN right out of the gate! If you love the fragrance of tart, tangy lemons, mixed with cheesecake, then you will love this candle like people love this favorite breed of dog!